ThE CElTiC® CollECTion FiT For UrBan aCTorS
CHARRIOL's heritage is inspired by the Celts – and chosen by Philippe Charriol, a strong race whose iron aesthetic informs six new 'torque' bracelets in the CELTIC® collection. The original Celtic bangle design, comprising a simple cable of twisted metal with ornamentation at the end points, is thought to be thousands of years old. CHARRIOL's additions come in arresting shades of blue and steel, bronze and gold,
or black and gold, or more masculine shades of black and steel.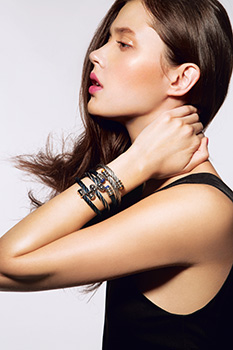 The new bangles encompass finely woven signature cables finished with a semi-precious stone, or a matching steel or colored end-piece. It's effortless style to be worn by brave modern men and women everywhere.