BLUE MARLIN IBIZA UAE FIRES UP THE ENGINES FOR NOVEMBER
Blue Marlin Ibiza UAE, welcomes the beautiful outdoors with a round of Beach days and party nights that will keep patrons craving for more. It's a special month that brings the tribal legend, Loco Dice to the country for the first time, an F1 weekend special with Circoloco and one of the venue's most successful Saturday brunches, the Spiritual Brunch.
On Friday November 4th, Blue Marlin Ibiza UAE presents Used + Abused with Loco Dice and Caleb Calloway. It's time for Tribal House to take center stage as the 10-year DC-10 veteran, Loco Dice, brings the unique heart thumping genre to Blue Marlin Ibiza UAE. Loco Dice, famous for tracks like Phatt Dope Shit, Menina Brasiliera, and Seeing Through Shadows, takes you on a cinematic journey through his North African and Middle Eastern folkloric musical influences. He will be joined by Caleb Calloway on that night, a DJ rooted from the tropical sounds of his native country Puerto Rico and influenced by the melting pot of sound he encountered in Chicago, Texas, and New York. After having opened up for Loco Dice, Calloway sparked the interest of talent booker Louis Diaz from Club Space Miami; where he played his debut set at the terrace during WMC 14' and again in the summer of 2014 as the main act. He was then presented with the amazing opportunity to tour with Loco Dice and become his supporting act. The first brunch of the month on Saturday November 5th, is a Fashion Brunch solely dedicated to Menswear showcasing the best in clothing, swimsuits and accessories to the style savvy gentlemen of the city.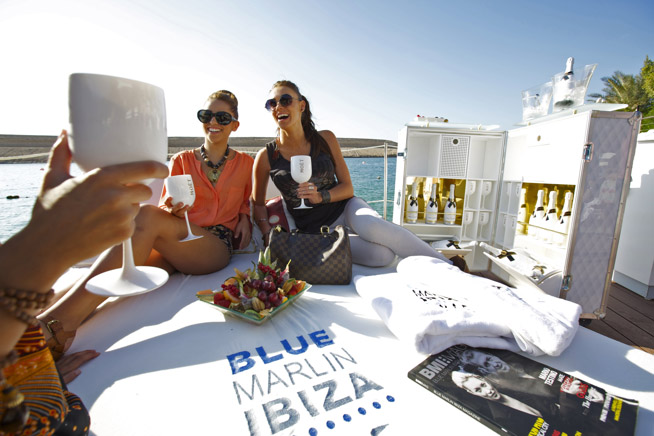 On Friday November 11th, Jackmaster will take to the decks along with Joseph Capriati. "I don't think about music in terms of genre, I think about it in terms of energy levels," he says – and as his star has risen over the past few years, this has been on perfect display at parties from Glasgow to Berlin to New York, and from superclubs such as Berghain and Fabric to legendary underground warehouse parties. Now recognized as one of the principal profiles in techno, Joseph Capriati has established a reputation as a universally popular and in-demand talent. A naturally charismatic DJ with a back catalogue of standout productions, Joseph is an instinctive performer with a genuine enthusiasm for entertaining. On Saturday November 12th, Dubai's favorite Cuban band makes their way to Blue Marlin Ibiza UAE for a Salsa Brunch like nonother. The sultry band brings a sassiness to their performances that have the power to transport you to the streets of Havana.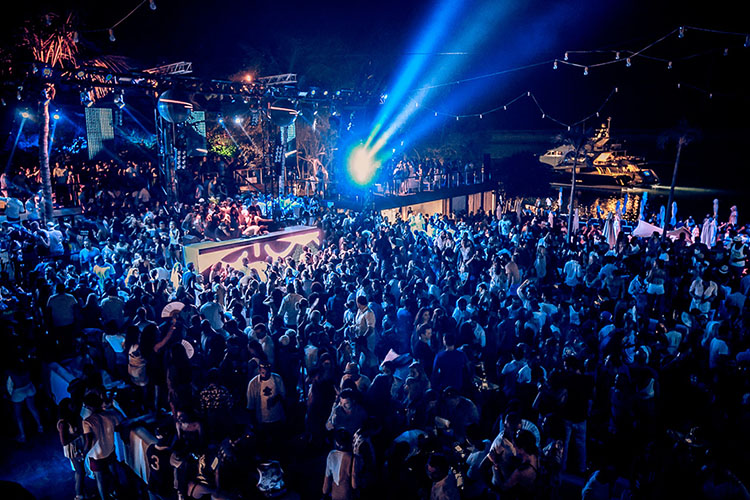 Cocoon makes a return with Illario Alicante and Markus Fix on Friday November 18th. Ilario's journey began with his regional DJ community, resulting in a long-running residency with Pachamama Club. After the success of his first hit track "Vacaciones En Chile" (Tenax Recordings), Ilario had an increasing number of invitations from clubs around Europe, further honing his DJ's ear and fine- tuning his unique production sound. Markus Fix had a notable residency at U60311 where he was left free run to his musical passion. He has played with top Dj ́s Tiefschwarz, Dominik Eulberg, Loco Dice, Tobi Neumann, Ewan Pearson and Martin Landsky amongst others.
On Saturday November 19th, the beach club's most popular Saturday brunch makes a rather serene return with relaxed vibes focused on positive energy. The Spiritual Brunch is one not to miss as it's quite different than all the other days at Blue Marlin Ibiza UAE.
The last weekend of the month presents the popular Circo Loco party with Jamie Jones, Kerri Chandler and Art Department. The beginnings of Circo Loco started at DC10 back in Ibiza 1999. The popular night shaped modern club culture and the Crazy Clown face went on to travel around the world as a beacon of the party ethos of Circo Loco, becoming a symbol for the underground spirit of dance music culture. Making a return to Blue Marlin Ibiza UAE, Circo Loco brings along Jamie Jones, who is renowned for his cross genre band, Hot Natured; his ground-breaking label, Hot Creations; and his world- renowned event series, Paradise. In less than a decade, he has catapulted himself to stardom by shattering genres and breaking out of the confines of minimal techno. Kerri Chandler's influences can be traced back to New Jersey growing up in a family of jazz musicians. His father, a respected deejay, provided Kerri with a rich background in the origins of soul, disco and the New York Underground Sound (known also as "Garage" music). The future is very bright for Kerri who is now signing and releasing productions through his new record label imprints: Max Trax, Grei Matter and Lost Tribes of Ibadan. Last but not least, the returning Art Department has transcended scenes and broken down walls as underground artists as few others have, garnering accolades including #1 track of the year at the Beatport Awards in 2011. They have been installed as Circo Loco residents at arguably the most revered club on earth—DC10; upon request have taken their immersive live show to esteemed nightclubs like Fabric and Panorama Bar; have been invited to perform at trendsetting international events
On Saturday November 26th, the last brunch of the season welcomes Schooly and Dubai electronic music staple, Charl Chaka.With music in his blood and funk in his soul, he has championed a distinct deep, funky jackin' house sound and to this day is credited as being the 1st DJ to introduce this sound to Dubai. He will be joined by Schooly's soulful tunes, another Dubai favorite from Radio 1.
Caleb Calloway
Friday Nov 04th: Used and Abused with Locodice and Calloway Saturday Nov 5th: Fashion Brunch
Friday Nov 11th: Jackmaster and Joseph Capriati
Saturday Nov 12th: Salsa Brunch with "Cubache"
Friday Nov 18th: Cocoon with Illario Alicante and Markus Fix
Saturday Nov 19th: Spiritual Brunch
Friday Nov 25th: Circoloco with Jamie Jones, Kerri Chandler and Art Department Saturday Nov 26th: Beach Brunch with Schooly and Charl Chaka
Contact Information:Sheikh Zayed Road, Ghantoot, Exit 399 in Golden Tulip Al Jazira Hotels and Resort, Abu Dhabi, 25 minutes from Mall of the Emirates.
Hours of Operation:Friday and Saturday: 1 p.m. to 11 p.m. (Reservations until 9 p.m.) Saturday Brunch: 2 p.m. to 5 p.m.
Safety driver service available, please call +971 56 113 3400. (48 hours notice required)