Layton, the intense sensuality


The story? A sensual and scented composition infusing ease and nobility into the festive and harmonious atmosphere of the Versailles court.
The formula? Bergamot leads with its tangy passion, while lavender and geranium blend into a fresh note, chic and chivalrous all at once. The intensity rises from mesmerizing amber, enhanced by the natural elegance of a pink pepper. Distinguished and addictive, its character carried by vanilla and precious woods grows more powerful thanks to an intriguing note: a flavorful and fascinating hint of caramalized coffee.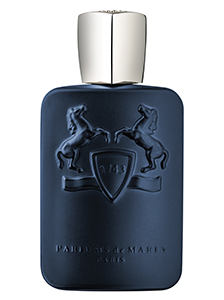 Unforgettable thanks to its addictive presence and unique appeal, this exhilarating fragrance fits within the great lineage of Parfums de Marly. Its bottle features the brand's equestrian cabinets, embossed on solid and opaque glass. The captivating refinement of the fragrance establishes itself with majesty. Proud and velvety, like the night blue mat of its bottle, LAYTON radiates with a fragrant, sensual and mighty seduction.