Halloween Horror at IMG Worlds of Adventure
The world's largest indoor theme park hosts a Halloween spectacular
Have you ever entered a world tormented by roaming zombies, monsters and beasts so terrifying you begged to wake from your nightmare? IMG Worlds of Adventure, the world's largest indoor theme park, owned by the Ilyas and Mustafa Galadari Group and managed by IMG Worlds, will bring tricks and treats alive this month, as the park is transformed into a Halloween nightmare from 21-31 October.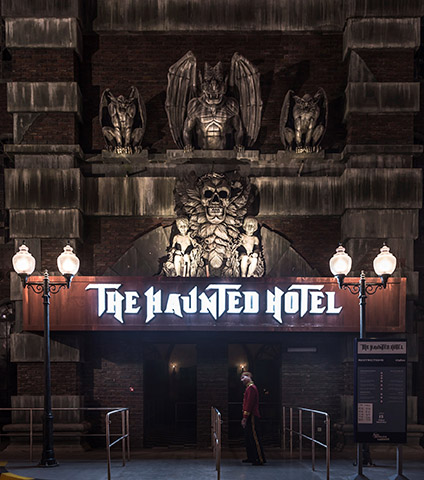 Nightmare on IMG Boulevard – Oct 21-Oct 31
Blurring the lines of reality, IMG Worlds of Adventure will shed its skin to reveal the haunted old tombstones and forbidden wasteland of the Nightmare on IMG Boulevard. The faint-hearted are warned not to enter Dracula's Tunnel for fear of what lies within. For more humane Halloween traditions, younger guests will be given trick-or-treat bags which they can fill with sweets & treats throughout the park with a chance to compete in a chocolate decorating competition at the World of Candy.
Hoping to survive? We  suggest that you blend in by wearing your scariest costume as entering through the iron gates of IMG Worlds of Adventure, is like entering the worst ever horror movie, guaranteed to give you nightmares. There will also be a spooktacular catwalk with prizes given to the best dressed. Additionally younger victims can have their faces painted while enjoying more subdued activities.
Stay away! A trio of enchanting women have been spotted around a creepy cauldron mesmerizing unsuspecting guests with their traditional dances and spine- chilling stories. It's best to stay in groups but make sure you are not the one at the back of the line as IMG Worlds of Adventure's army of zombies are looking for new permanent guests to join them.
Zombie Apocalypse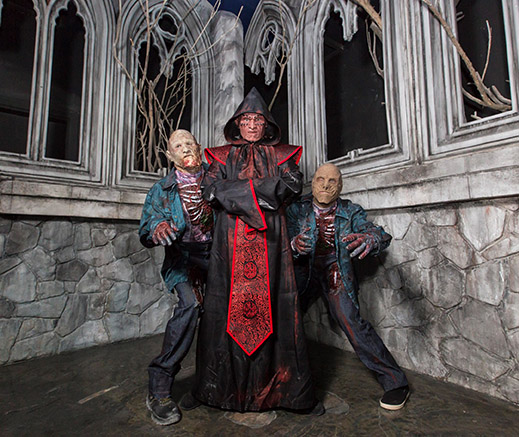 For the bravest of adventurers aged 15+, there will a late night fright night on 28th October from 9:30pm-1:00am which is a separate ticketed event. The park will close early to make room for their most dreaded guests, as the residents of The Haunted Hotel are let loose throughout the park. Once the park reopens at 9:30pm, despair and distress awaits victims that will be just one scream away from a gruesome demise.
IMG Worlds of Adventure will resemble a fresh crime scene, complete with grisly guests to keep the bravest of thrill seekers up at night. Hard-core adrenaline junkies can escape through the maze of Dracula's lair but watch for the zombies that are out for revenge.
A terrifying man-hunt will provide the most heart-stopping entertainment as guests make their way through narrow tunnels with darkness and suspense at every turn. Management has advised people to wear Halloween costumes to disguise themselves from ghoulish assassins, whilst avoiding looking in any mirrors ….
For guests wanting more chill than thrill, head over to the Cartoon Network zone for a fluorescent zombie rave. Grab some fluorescent paint from our resident artists and join our live DJ and zombie dancers for a Thriller-style dance.
All rides and attractions will be running as usual during IMG Worlds of Adventure's Halloween extravaganza.
Tickets for the Zombie Apocalypse can be purchased at www.IMGworlds.com for AED 250 which includes all rides & attractions and special activities.
Tickets for entry to the park can be purchased at www.IMGworlds.com with adult ticket prices set at AED 300 and Junior Admissions (under 1.2m) at AED 250, children under 105cm will be given free entry to the park, whilst a ticket for Senior Citizens (over 60) will be 150 AED . Tickets for Guests with Disabilities (above 1.2m) are AED 150 for admission above 1.2m and AED 100 for Junior Admissions under 1.2m  Ultimate Fast Track passes are an additional AED 195 with Fast Track 3 shots passes at AED 125.Two day passes will be available for AED 500 for adults and AED 400 for children. Annual passes to the park can be purchased for AED 2,495