Exclusive haute-joaillerie timepieces blending the most precious stones with noble materials
Policromia, the exclusive Fendi Timepieces watch designed in collaboration with the globally renowned jewelry designer Delfina Delettrez Fendi, is now presented in two one-of-a-kind versions.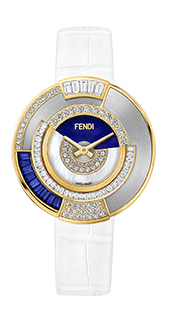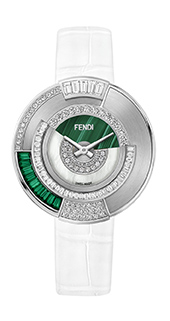 Featuring white baguette-cut and brilliant-cut diamonds on the case and dial, each timepiece comes in 33mm or 38mm, adorned with precious elements of haute-joaillerie: baguette-cut diamonds, sapphires and emeralds, white or yellow gold, mother-of-pearl with blue lapis lazuli or green malachite, celebrating the FENDI highest craftsmanship and savoir-faire.
In line with the first Policromia watch presented at Baselworld 2016, the design is very feminine, featuring multiple shaded pieces and an asymmetrical construction made in noble materials, creating the watch's daring silhouette with a unique 3D effect.
Its versatile architecture enhances the Roman Maison creativity and mastery in material combination offering 15 different levels of personalization. It allows an infinite choice of combinations by mixing the clients' own tastes with the highest craftsmanship of the FENDI artisans to give life to exclusive unique pieces.
About Policromia
The name Policromia origins from the Greek words poly (multiple) and khrôma (colors), embodying the idea of several colors
together, with a mystic reminder to a surreal Goddess living in a far world.